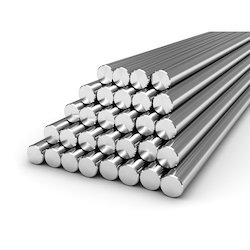 Niobium products
Neeka Tubes is a leading global Supplier and Exporter of Niobium products in India. We are committed to providing the highest global quality of Niobium metals including Niobium Wire, Niobium Rod, Niobium Fittings,and Plate as well as a wide range of industry standard Niobium machine parts.
ABOUT NEEKA TUBES NIOBIUM PRODUCTS
Our Niobium metal products are characterized by its exceptional strength, high conductivity and great resistance to corrosion and other adverse chemical processes that affect most metals. The metal'sunusual characteristicsaccount for its use in high-strength & low alloy steel materials, and its massive demand in the global market. Adding Niobium to your alloy will increase its anti-corrosion capabilities while making it a lot stronger and weldable! You will also notice an increase in its temperature and oxidation resistance.
Consequently, the alloy is widely used in a number of modern technological processessuch as electronics &nuclear energy industries, andin superconductor applications.
We are also equipped todeliver various other Niobium products including Niobium flanges,screws, valves,nuts, and more. Our Niobium wire products are of global standards and are exported to several international countries and regions such as United States, Australia, Brazil, Canada, France, Germany, Italy, Japan, Korea, Russia, Spain, Ukraine and a host of other countries.

Here is a detailed list of our Niobium products:
Beeker, Block, Bushes, Capillary tubes, Coil, Crucible, Disc, Fasteners, Filler wire, Fittings, Flanges, Flat, Foil, Hex, Ingot, Nut Bolt, Pipe, Plate, Rectangles, Ring, Rod, Round bar, Scrap, Seamless pipes, Niobium Sheet, Slitting coil, Spring hard wire, Square, Strips, Tubes, Wire, & Wire mesh.
Available Grades Include:
 Pure grade
 Nb-Ti alloy
 Nb-Zr alloy
Features of Neeka Tubes' Niobium Products:
 Durable and Longer life span
 Dimensional accuracy
 Robustness
YOUR ONE-STOP NIOBIUM METAL, SHEET AND ROD SUPPLIERS
As a top-quality Niobium metal suppliers, our goal is to develop a sincere and long-term cooperation with all customers – locally and internationally. We look forward to being your go-to, one-stop supplier of Niobium and other top quality metals in whatever quantity that satisfies your need!
We are committed to offering maximum customer satisfaction and the best Niobium products – Niobium Sheet, Rods, Metals & more; at the lowest prices possible with prompt delivery.
NIOBIUM METAL PROPERTIES
| | |
| --- | --- |
| Atomic Number: | 41 |
| Atomic Weight: | 92.9064 |
| Boiling Point: | 5017K, 4927 0C, 8571 0F |
| Coefficient of Thermal Expansion (20 degrees C): | 7.1 x 10-6/degrees C |
| Crystal Structure: | bcc |
| Density: | 8.57 g/cc |
| Electrical Conductivity: | 13.2% IACS |
| Electrical Resistivity (20 degrees C): | 15 microhms-cm |
| Melting Point: | 2750 K, 2468 0C, 4490 0F |
| Specific Heat: | 126 cal/g/degrees C |
| Thermal Conductivity: | 523 cal/cm2/cm degrees C/sec. |
| Thermal Neutron Cross Section:: | 1.1 b |