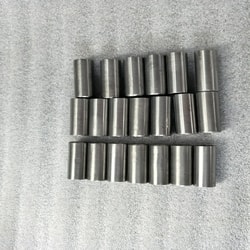 MOLYBDENUM ALLOY
Neeka Tubes is a leading global Supplier and Exporter of Molybdenum Alloy in India. We are committed to providing the highest global quality of Molybdenum alloys including molybdenum wires,molybdenum bars, molybdenum bolts, molybdenum crucibles, molybdenum plates, molybdenum rods, molybdenum sheets and other molybdenum products.
ABOUT NEEKA TUBES MOLYBDENUM ALLOY PRODUCTS
All Neeka Tubes'Molybdenum alloy products meet international standards; having unique properties that make them very suitable and desirable for a wide range of industrial applications.

HIGH-TEMPERATURE RESISTANCE
The metal's extreme melting point of 2620°C, for instance, makes it an appropriate load-bearing material in applications where high temperatures are required. The fact that the metal readily oxides at temperatures above 400° Celsius, in the air to form a protective, hydrogen-reducing, vacuum-like atmosphere is another property that makes it very suitable for extreme temperature applications.
In addition to its extreme temperature resistivity, Neeka Tubes' Molybdenum alloy products exhibit great thermal & electrical conductivity, as well as low vapor pressure at higher temperature values. Thus giving it a very wide application as metal injection molds, glass melt furnaces, hot isostatic presses, vacuums, and nuclear fuel sinters.
CORROSION RESISTANCE
Neeka Tubes' Molybdenum alloy products are corrosion resistant;makingthem ideal materials for abrasive and aggressive-environment applications. These include Flow Control Components &Electrodes for glass melts, Hot Runner Nozzles,Ion-etching Semiconductor Grid Sets, Plastic Injection-Molding Equipment and MOCVD Reactor Components & Assemblies.
COEFFICIENT OF THERMAL EXPANSION
The metal's characteristically low thermal expansion coefficient property (similar to glass and silicon) makes it very suitable for a number of thermal applications. These includehigh-reliability electronics,lighting and flat panel displays where the molybdenum and silicon/glass surfaces are required to bond and thermally-cycle.
NEEKA TUBES MOLYBDENUM ALLOYS
In addition to delivering pure grade Molybdenum, we also provide a variety of global-standard molybdenum alloys that are suitable for use under extreme temperatures and other unique applications.

TZMALLOY (TITANIUM, ZIRCONIUM&MOLYBDENUM)
Comprising of the Titanium, Zirconium and Molybdenum metals, Neeka Tube'sTZM has an increased strength with a significantly higher temperature resistance than pure Mo. Also noteworthy is itsenhanced creep resistance and a relatively higher recrystallization temperature.
HCT MOLYBDENUM
Neeka Tubes'HCT Molybdenum is often used in applications where low-temperature ductility retention after high-temp exposures is required – including lamp filament supports, electronic tube components, and sinister trays. The recrystallized form of HCT molybdenum is usually very stable and developselongated-grain interlocked structures thatare ductile at room temperature or below.
YOUR TRUSTED MOLYBDENUM GLOBAL SUPPLIER
Neeka Tubes is a reputed Supplier and Exporter of premium quality Molybdenum alloys and products. Our Molybdenum when combined with other suitable metals, is avery reliable hardening agent. It also helps to improvethe metal's corrosion resistance, and tensile strength.
We are committed to offering maximum customer satisfaction and the best Molybdenumproducts – Molybdenum Sheet, Rods, Metals & more; at the lowest prices possible with prompt delivery. Thank You
NIOBIUM METAL PROPERTIES
| | |
| --- | --- |
| Atomic Number: | 42 |
| Atomic Weight: | 95.94 |
| Boiling Point: | 4912k, 5560°C, 8382°F |
| Coefficient of Thermal Expansion (20 degrees C): | 4.9 x 10(-6)/°C |
| Crystal Structure: | bcc |
| Density: | 10.22 g/CC |
| Electrical Conductivity: | 30% IACS |
| Electrical Resistivity (20 degrees C): | 5.7 microhms-cm |
| Melting Point: | 2896 K 2610°C |
| Specific Heat: | .061 cal/g/°C |
| Thermal Conductivity: | .35 cal/cm(2)/cm°C/sec |